Important Update regarding the Corona Virus:
All Masses and Faith Formation have been cancelled until further notice.
Todas las misas y catequesis han sido canceladas hasta nuevo aviso.
Tất cả quần chúng bị hủy bỏ cho đến khi thông báo thêm.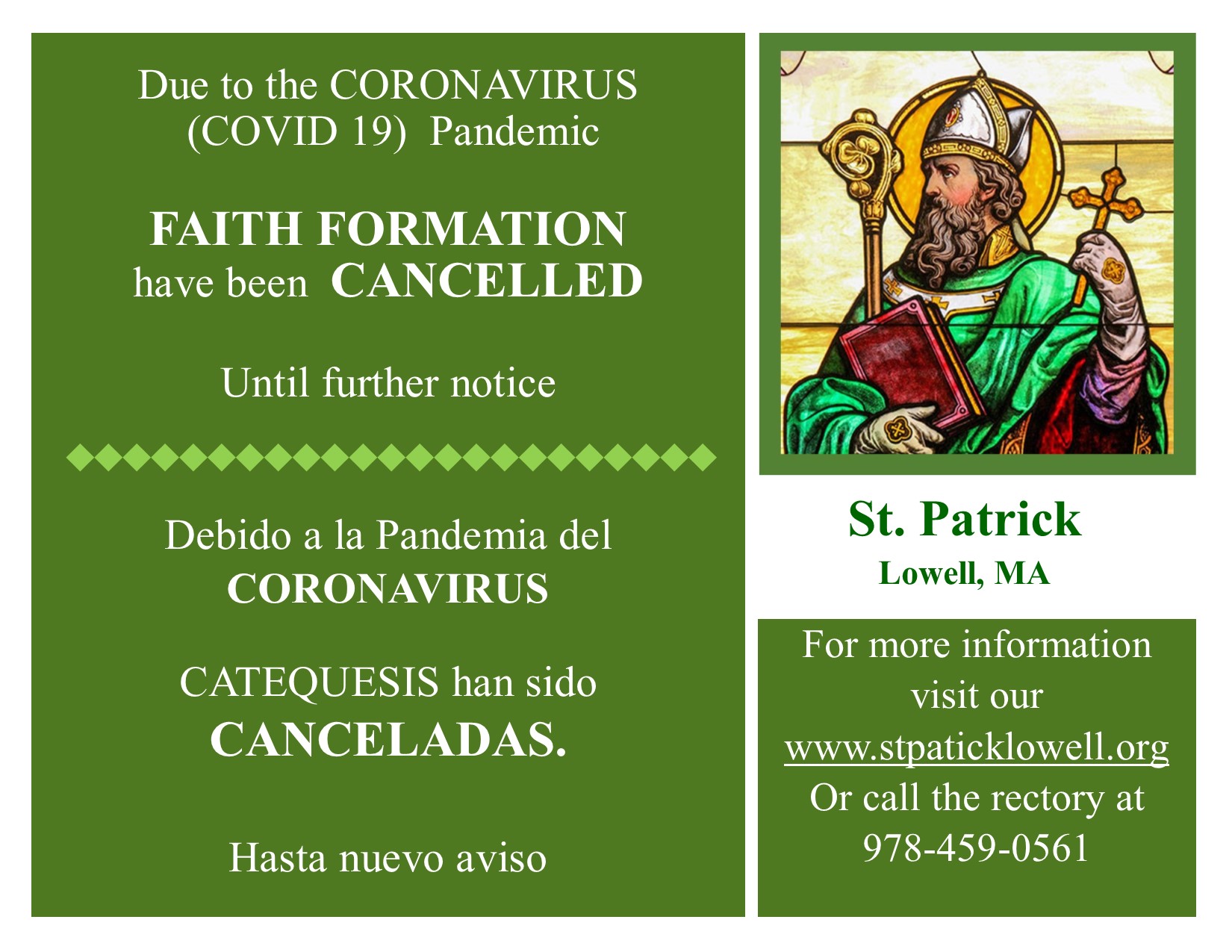 Following Governor Baker's Emergency Order concerning the Commonwealth's response to the Coronavirus (COVID-19) outbreak Cardinal O'Malley has established the following policies for the Archdiocese of Boston effective immediately:
   
All Masses and religious services in all Archdiocesan parishes, missions, and campus ministries are suspended until further notice. This begins at 4:00pm on Saturday afternoon, March 14. To be clear there are to be no vigil masses. Baptism, Confirmations, weddings and funerals may proceed but attendance should be limited to only immediate family.
    
The Cardinal has issued a dispensation from the obligation to attend Mass during this time to the Catholics of the Archdiocese of Boston.
     
Archdiocese of Boston parish schools and Archdiocesan elementary and high schools will be closed for two weeks from Monday, March 16 to Friday, March 27. Going forward we will consider whether this period needs to be extended.

Cardinal O'Malley encourages Catholics, and all people who would find it helpful, to participate in the daily and Sunday Mass by way of Catholic TV. Schedules and access to the televised Mass and rebroadcasts are available at www.WatchtheMass.com or www.catholictv.org and by consulting local cable providers or network listings.

During this time of extraordinary challenges Cardinal O'Malley holds as among the highest priorities the safety and well-being of all people in the communities served by the Archdiocese. The Cardinal asks all to join in prayer for the health care professionals and civic officials who are striving to respond to the needs of those who are ill and as best possible prevent further transmission of the virus.
 
If you have any questions or concerns regarding the Archdiocese's emergency policies related to the Coronavirus please contact us at: corona@rcab.org.
 
All of the Archdiocese communications regarding the response to the Coronavirus outbreak can be found on our risk management website: www.rcabrisk.org. 

There will be additional related information forthcoming from our Risk Management Office.

Following is today's announcement from the Archdiocese. 
 
COVID-19 
 
MA DPH 
CatholicTV 
 
Learn more about Coronavirus (COVID-19) by clicking here . 
‌ 
Connect with us ‌  ‌  ‌ RCAB | Pastoral Center, 66 Brooks Drive, Braintree, MA 02184Unsubscribe stpatricklowell@comcast.netUpdate Profile | About Constant ContactSent by tdonilon@rcab.org in collaboration withTry email marketing for free today!
 
Welcome to St. Patrick Church. We are a multi-cultural and multi-lingual Roman Catholic Community. We worship every weekend in four languages: English, Spanish and Vietnamese. Despite our mix of language and culture we are a closely united and caring people.
As an immigrant people we are interested in and work for justice for the newly arrived. Our nation has a proud history of receiving immigrants and we are doing our best to continue this effort. St. Patrick himself was an immigrant to Ireland where he preached the Gospel.
I invite you to use the links above to learn more about us, our many ministries, our vibrant religious education program, and our passionate sacramental life.
All are welcome to our parish.


---
---